The 2022 Subaru Love Promise Community Commitment Award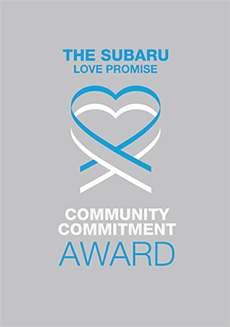 We've been nationally recognized for our dedication to our community and the Subaru Love Promise.
We're honored to receive the 2022 Subaru Love Promise Community Commitment Award. This award nationally recognizes Subaru retailers who are making the world a better place while demonstrating an outstanding commitment to supporting passions and causes in local communities. These efforts are focused in important areas such as the environment, community, health, education, and pets.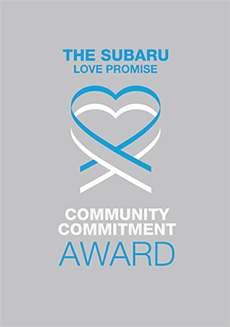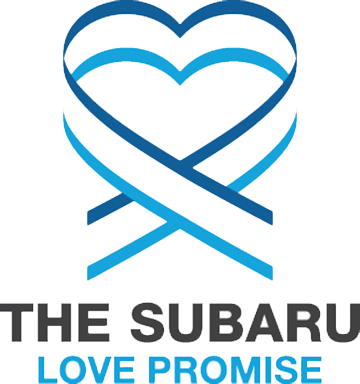 What is the Subaru Love Promise?
Subaru and our retailers believe in making the world a better place and the Subaru Love Promise is our vision of respecting all people. This is our commitment to show love and respect to our customers and to work to make a positive impact in the world.
How is Harvey Subaru dedicated locally to the Love Promise?
Our Love Promise can be seen in various partnerships with local charities and non-profits. We're grateful for the opportunity, not only to be a part of our community, but to serve it as well.
Love Promise Stories from Harvey Subaru
Subaru and Harvey Subaru believe in making a positive impact on the communities in which we live and work. We uphold that belief through our Love Promise Community Commitment. Every month, we select inspiring stories from customers and partners from around our area who strive to support our collective commitment and feature them here
The ongoing support of Harvey Subaru - Ro M
Harvey Subaru has been a longtime supporter of the American Cancer Society through the Share the Love Campaign. Each year, funds are raised that help support the life saving mission of the American Cancer Society. Through the pandemic and the surge of the Delta Variant Tommy Harvey and the team at Harvey Subaru went above and beyond in support the American Cancer Society. Harvey Subaru is dedicated to the life saving mission and research of the American Cancer Society. We truly say thank you!
---
Loyola College Prep Garden - Grace Harvey - Grace H
Loyola College Prep is beyond thankful for Harvey Subaru and for their help on keeping our campus beautiful, with their donation to help us with our garden. Loyola's Environmental Science Class and Green Club works hard to keep our garden beautiful. Loyola's Media Arts class often reports on the hard work these students put in. Not only does their gracious donation help bring smiles to our students with these opportunities, but brings a smile to all on campus. Every year each class cleans out the garden of its weeds and overgrown plants, and plants new seeds to watch it grow throughout the year. The garden is located by Loyola's new compound where students can admire the hard work by the environmental students at lunch. It is also placed where one of our feeder schools St. John's can see our garden from their playground. We love to bring our community together through our campus. This allows us to continue the support of the 3 pillars of Loyola, Faith in Action, Academic Excellence, and the one Harvey Subaru is helping us support, Student Involvement. Loyola Student Government thrives to keep our pillars alive throughout all our school, and are grateful to all who make this happen. We love to see our students come together and work to bring something so beautiful to life. Harvey Subaru, Loyola College Prep will continue to be so thankful for your gracious donations to our school. You are one of the many reasons we are able to have a beautiful campus that are students are able to interact with. Thank you again.
---
Thank you Harvey Subaru and Subaru USA - Auburn B
Subaru supports its local Food Bank of Northwest Louisiana community! In 2020, when the world was "normal" one day and altered the next, many in the community found themselves without jobs or a steady income. People found themselves needing food assistance for the first time and many needing it more than ever before. Community support by companies with a heart and love for their local community, like Harvey Subaru and Subaru USA , makes a difference in 2021. A food recipient at a food pantry in Shreveport, LA said the food he is given helps a lot. "This food pantry is a blessing and the food I receive helps to stretch my food budget and enables me to provide for my family," he stated. Volunteers at the food pantry stated that companies that support their local community, give back, and enable more food to be provided to those who need it are special and appreciated. It is nice to see a company support the community that supports it. We all have to help each other.
---
Great Staff - Really Helped Me Out - John M
I have always been the type to drive a vehicle until the wheels fall off and unfortunately for me that has happened far too often. I was accepted to a college about an hours drive from home and needed a reliable vehicle to make the trip. The guys at Harvey Subaru could not have been more accommodating of my needs and got me a sweet 2016 Forester to make that drive. My mom was so impressed by my experience that she is now the proud owner of a 2021 Forester!
---
Ninna's Road to Rescue Donation - Linda F
As part of the Harvey Subaru Loves Pets events Harvey Subaru was sweet enough to deliver food, treats and toys for our sweet babies!
---
Best of a Bad Situation - Courtnei G
In January, my 2019 Forester was totaled when I was hit by another vehicle. John Harvey Subaru got me in a new 2020 Subaru Forester in less than 2 weeks. I couldn't get the color I loved again but they went above and beyond to search for the options and color I wanted and get a vehicle delivered to me when it was almost impossible to find them. They listened to all of the options I wanted and did not give up until they found exactly what I wanted. They definitely made my terrible situation so much better!!
---
Harvey Subaru leads the fight to end cancer - Katie W
Harvey Subaru is a staple in the success of the American Cancer Society's "White Out Cancer Gala," formerly known as the Baron's Ball in Shreveport. As a premier sponsor, Harvey Subaru played a large role in helping the community raise over $113,000 through the 2019 event, which was the most dollars this event has ever raised. Not only do they support the event as a sponsor, but they continue to invest in the mission as an entire team. From volunteering on the event committee, promoting the mission of our work, bringing a large crowd to support community events to engaging in additional fundraisers on a personal level - the team at Harvey Subaru truly stands out as leaders with the American Cancer Society. Thanks to partners like Harvey Subaru, the American Cancer Society continues to fund life-saving research for every type of cancer. And in the Northwest Louisiana community alone, the Society provides over 4000 services to patients and families each year. This includes free nights of lodging when traveling away from home to treatment, rides to and from daily treatment and emotional support when dealing with a cancer journey. On behalf of the American Cancer Society, we sincerely say "thank you" to our friends at Harvey Subaru for sharing the love through the fight to end cancer.
---
Subaru and NWF Love the Earth! - Chris V
We got some awesome tools and plants from Subaru!
---
Harvey Subaru Hosts The Cattle Baron's Ball! - Cattle Barons'sBall T
On August 16, 2014 Harvey Subaru had the Honor of hosting The Cattle Baron's Ball, a western themed event "Tip Your Hat Towards A Cure", which relies on the spirit and generosity of the community to fund the fight against cancer. We raised $47,000 dollars for cancer research. Rising to the challenge, The Cattle Baron's Ball has become the world's largest single-night fundraiser for the American Cancer Society.
---
Harvey Subaru Partners With Think First - Think First N
During the Subaru More2Love Launch event Harvey Subaru offered free safety demonstrations, child fingerprints and free car seat checkups, partnering with the Bossier City Police Department and the Ark-la-tex chapter of "ThinkFirst". We at Harvey Subaru are BIG Believers of keeping our youth safe on and off the roads. Think First seeks to educate people of all ages, communities, organizations, and policymakers about risky behavior and injury, with the aim of changing behavior. Each year, more than 500,000 traumatic brain and spinal cord injuries occur in the United States . Many of these are very preventable. The most common cause of such injuries is motor vehicle crashes, followed by violence. Falls, and sports. A split second of action can have devastating consequences. We hold these events to train you to think before you act, so you avoid the pain and loss related to preventable injuries.
---